Seminars
Dr. Lance A. Casazza teaches numerous seminars, utilizing the book and its 21-day blueprint and system to help people learn and understand the process and results. Each class Dr. Casazza will review how the system works, explain SANE (Self, Affirmations, Nutrition and Exercise), highlight some of the 110 Tools, and personally walk people through their blueprints.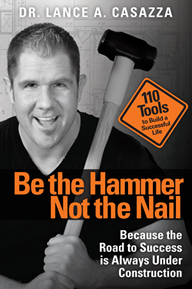 During each seminar, students can expect to learn how to:
• Use the 110 Tools to create the life they love
• Create the blueprint
• Apply the blueprint to their 21-day process

If you would like Dr. Casazza to speak to your group, attend a seminar, or learn more about his process
please call 916.447.2200 or send e-mail to: info@bethehammernotthenail.com. Or check back here for
upcoming dates and details about the next seminar.